Toronto, a vibrant and diverse metropolis in Canada, boasts a thriving real estate market that caters to luxury and high-end property buyers. With its booming economy, rich cultural scene, and attractive neighbourhoods, Toronto has become a sought-after destination for individuals seeking exclusive and prestigious homes.
In this article, we will present a brief overview of Toronto's most expensive houses, showcasing the city's opulent real estate offerings and architectural wonders.
Table of Contents:

Toronto's Priciest Homes
Luxury real estate in Toronto is concentrated in several standout neighbourhoods. Bridle Path, known for its sprawling mansions and gated estates, is one of Canada's wealthiest areas. Forest Hill offers classic and contemporary designs, with grand residences lining its tree-lined streets. 
Rosedale, situated in midtown, features elegant Victorian, Georgian, and Tudor-style mansions amidst scenic ravines. Yorkville, renowned for upscale boutiques and gourmet dining, showcases high-end condominiums and penthouses with stunning city views. These neighbourhoods exemplify the opulence and sophistication of Toronto's luxury real estate market.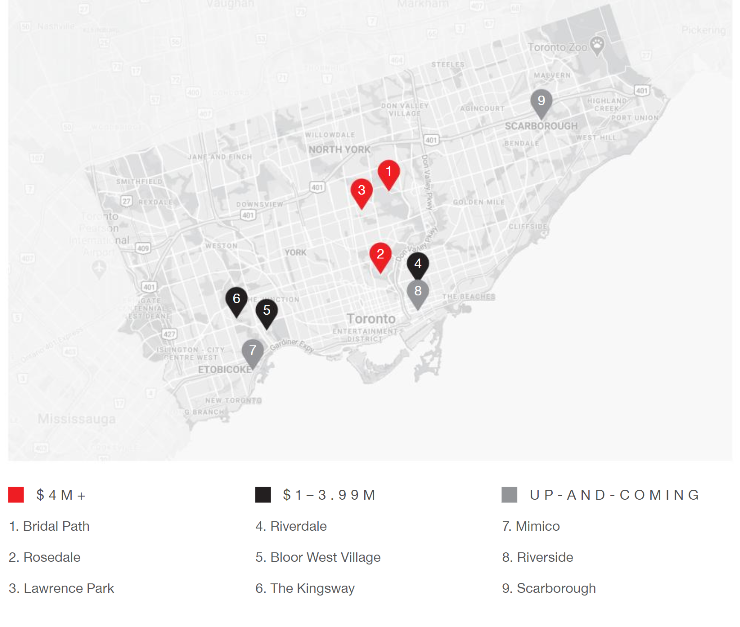 10 Most Expensive Houses in Toronto in 2023
Toronto's real estate market boasts an array of luxurious and high-end properties that epitomize luxury living. This section will delve into the top 10 most expensive houses in Toronto, each showcasing unique features, architectural brilliance, and opulent amenities.
Bridle Path Mansion – Located in the prestigious Bridle Path neighbourhood, this mansion spans over 2.16 acres, offering exquisite craftsmanship and meticulous attention to detail. This residence epitomizes luxury living with sprawling grounds, a bar, a sauna, a pool, and much more. 
Forest Hill Estate – Nestled in the affluent Forest Hill neighbourhood, this estate offers a spacious and elegant living space with 5531 square feet above the ground and 2212 square feet in the finished basement. It has an incredible inground pool and spa, surrounded by stone patios and lush landscaping. The home was built in 1930 and expanded in 1985 by renowned architects Volgyesi & Propst. 
Rosedale Heritage Home – Situated in the charming Rosedale neighbourhood, this heritage home showcases Victorian grandeur and refined living. This residence offers a glimpse into Toronto's historical charm with its ornate architectural details, multiple fireplaces, and a picturesque garden. 
Yorkville Penthouse – Perched atop a luxury condominium in Yorkville, this penthouse offers panoramic views of the city skyline. This property is the epitome of urban elegance with its sleek, modern design, floor-to-ceiling windows, and private rooftop terrace.
Waterfront condominium – Located on Toronto's waterfront, this luxury condominium boasts stunning lake views and luxurious amenities. This exceptional unit offers an excellent location, a world-class building, and an ideal home for your urban lifestyle. With 180 panoramic views, 10 and 11-foot ceilings, and a 1000-bottle wine cellar make this Toronto condo a rare option for residents searching for the highest level of luxury condos. 
The Annex Mansion – Situated in the vibrant Annex neighbourhood, this mansion seamlessly combines historic charm with modern luxury. Featuring elegant architectural details, high ceilings, and a spacious gourmet kitchen, this residence offers a perfect blend of sophistication and comfort. 
Cabbagetown Victorian – Nestled in the picturesque Cabbagetown neighbourhood, this Victorian gem showcases intricate woodwork, stained glass windows, and a private landscaped backyard. Its grand foyer, spacious bedrooms, and proximity to downtown make it a desirable property. 
High Park Residence – This contemporary residence offers a seamless indoor-outdoor living experience near Toronto's High Park. This property embraces modern architectural design with its floor-to-ceiling windows, gourmet kitchen, and private rooftop deck. 
Hoggs Hollow Estate – Set in the coveted Hoggs Hollow neighbourhood, this estate offers serenity and privacy amidst lush greenery. This property is a peaceful sanctuary with a custom kitchen, a home gym, and a private backyard oasis with a swimming pool.
Bayview Village Contemporary Home – Situated in the prestigious Bayview Village area, this contemporary home showcases sleek lines, high-end finishes, and smart home technology. This property exemplifies modern luxury with its open-concept design, private home theatre, and landscaped backyard with a swimming pool. 
Did you know?
High Park, named for its location above Lake Ontario, was founded in 1836 by architect John Howard. 


4 Factors That Make These Houses Expensive
The most expensive houses in Toronto are not merely defined by their price tags but are influenced by various factors contributing to their exclusivity and desirability. This section will explore the four key factors that make these houses expensive and sought-after in the Toronto real estate market.
1. Location and Neighborhood
The location and neighbourhood play a crucial role in determining the value and price of luxury properties in Toronto. Houses are often located in prestigious and sought-after neighbourhoods such as Bridle Path, Forest Hill, Rosedale, and Yorkville. These neighbourhoods are known for their upscale ambiance, proximity to amenities, and a sense of exclusivity.
Houses are situated in prime locations that offer convenient access to shopping districts, fine dining establishments, cultural attractions, and excellent schools. Proximity to parks, waterfronts, and green spaces adds to the appeal of these properties. 
2. Architectural Design 
Toronto's luxury homes are not only distinguished by their price tags but also by their exceptional architectural design. The city is home to diverse architectural styles, blending old-world charm with modern influences. Some remarkable architectural wonders in Toronto include:
Casa Loma: This majestic Gothic Revival-style castle-turned-museum is an iconic landmark in Toronto. Casa Loma showcases the city's historical grandeur with its turrets, secret passageways, and elegant gardens.
Royal Ontario Museum: A blend of modernist and contemporary architecture, the Royal Ontario Museum is a testament to Toronto's architectural innovation. Its iconic crystal-shaped addition, known as the "Michael Lee-Chin Crystal," has become an iconic symbol of the city.
Did you know?
Royal Ontario Museum, Canada's largest and most comprehensive museum, has 13 million artworks, cultural artifacts, and natural history specimens in 40 galleries and exhibition rooms. It is one of North America's top 10 cultural institutions.  
3. Amenities and Facilities
Luxury properties in Toronto offer an array of amenities and facilities that cater to a luxurious lifestyle. These include:
Private Facilities: Expensive houses often feature private amenities such as swimming pools, home theatres, fitness centers, wine cellars, and spa-like bathrooms. These exclusive facilities provide residents with a luxurious and convenient living experience.
Outdoor Spaces: Many luxury homes have well-designed outdoor spaces, including landscaped gardens, private terraces, and rooftop patios. These areas serve as tranquil retreats and provide opportunities for relaxation, entertainment, and panoramic city views.
4. Historical Significance
Some of the expensive houses in Toronto hold historical significance, which adds to their allure and value. Factors include:
Heritage Homes: Certain properties are designated heritage homes due to their historical, architectural, or cultural significance. These houses often boast preserved period details, unique architectural styles, and a sense of heritage that appeals to discerning buyers.
Historic Neighborhoods: Some neighbourhoods in Toronto are known for their historical charm and architectural significance. Houses in these neighbourhoods are highly sought-after by buyers who appreciate their rich history and character.
Did you know?
The average price for luxurious freehold and condominium residences fell 2.7% in Q1 2023 to $4,056,809, in contrast to the average price of $4,165,593 in Q1 2022.


FAQ
What makes a house in Toronto expensive?
Factors that make some houses in Toronto expensive and desirable are their location and neighbourhood, architectural design, amenities and facilities, and historical significance. These factors contribute to these luxury properties' exclusivity, convenience, and appeal. 
Where are the most expensive houses in Toronto located?
Some of Toronto's most sought-after neighbourhoods include Bridle Path, Forest Hill, Rosedale, and Yorkville. These areas boast an array of exquisite properties, ranging from mansions and estates to luxurious condos and penthouses. In addition to the impressive real estate offerings, these neighbourhoods also provide an abundance of amenities, including upscale shops, fine dining establishments, and scenic green spaces.
How has the market for expensive houses in Toronto changed over the years?
The luxury real estate market in Toronto has experienced notable transformations characterized by a steady increase in the prices of exclusive properties. As the market progresses, new neighbourhoods have emerged as desirable destinations for luxury homebuyers. Discerning buyers now prioritize modern, environmentally friendly, and technologically advanced residences that exude uniqueness. Consequently, the demand for luxury homes remains strong, leading to intense competition and even bidding wars in certain instances.


Toronto Most Expensive Houses – Final Words
The real estate market in Toronto presents a diverse selection of top-tier properties across different neighbourhoods. The price range of houses in Toronto is influenced by various factors, including their location, size, unique features, and the demand within the market. While there are more prestige houses in the Greater Toronto Area, such as in Richmond Hill, here we're referring to the city of Toronto only. Renowned neighbourhoods such as Bridle Path, Forest Hill, Rosedale, and Yorkville boast prestigious and opulent residences.
It is crucial to stay updated on the latest trends and developments to navigate the dynamic landscape of luxury real estate in Toronto. Keeping abreast of market changes ensures a well-informed approach to this exclusive segment of the housing market.