Home buyers these days know exactly what they want. We spend countless hours scrolling through real estate listings, searching for that perfect kitchen, the ideal backyard, and a luxurious ensuite. 
A staggering 47% of Canadians spend one to two years browsing through listings before even starting their house-hunting journey. We understand the importance of finding the right place to call home, and we're here to help you delve deeper into home buyers' latest trends and preferences and answer the question, what home buyers want?
Did you know?
Canada's population grew by 0.4% in the third quarter of 2022, reaching 38.3 million people. This increase was driven primarily by international migration, which accounted for two-thirds of the population growth. Alberta, Manitoba, and Ontario experienced the highest population growth rates, while Newfoundland, Labrador, and New Brunswick saw declines in their populations.
Table of Contents:


Homebuyers Stand Firm in Their Love for Single-Family Suburban Dream Home
In the midst of soaring real estate prices in major urban markets, one thing remains crystal clear: homebuyers are unwavering in their devotion to single-family suburban homes. Despite the occasional narrative suggesting a shift towards alternative housing options, the allure of outdoor space, a strong sense of community, and a much-needed escape from the urban lifestyle continue to draw buyers towards the tranquillity of the suburbs.
Contrary to what some may have heard during the pandemic, the desire for single-family homes and the charm of suburban living have remained strong. A substantial 62% of Canadians express a preference for single-family homes, a significantly higher percentage when compared to those attracted to condos or apartments (20%) or townhomes (10%).
Suburban Dream Home: Still Going Strong Despite Rising Prices
Despite the skyrocketing prices in major real estate markets, homebuyers remain steadfast in their commitment to the single-family suburban dream home, with no one fearing the ever-elusive market bubble. There's something irresistible about having ample outdoor space, a tight-knit community, and an escape from the hustle and bustle of urban living. The suburbs continue to exert their magnetic pull on buyers.
Contrary to some reports during the pandemic, most homebuyers still lean towards single-family homes and the suburbs. A whopping 62% of Canadians prefer single-family homes, a significantly higher percentage than those drawn to condos or apartments (20%) or townhomes (10%). The allure of a suburban sanctuary is alive and well.
Escaping the City: A Strong Trend
Regarding location, suburbs as the preferred destination, capturing the attention of 71% of buyers looking to escape the city. Among them, 44% seek refuge in the suburbs, while 27% yearn for a tranquil rural community. In stark contrast, only 29% of Canadians actively search for a home in the city center.
The pandemic-induced preference for larger homes and increased living space in 2022 triggered a significant surge in house prices within Canada's suburbs. As remote work gained popularity, homebuyers sought out suburban areas offering reasonably priced square footage. If you're planning to sell your suburban home, take solace in the strong demand, and pick the best month to sell the property.
Shrinking Price Gap: Suburban Homes on the Rise
The mass exodus from urban areas and the subsequent surge in demand for properties outside city centers led to a fascinating development: the shrinking gap in real estate prices between downtown and suburban areas. Back in 2016, suburban homes sold for a whopping 33% less than their downtown counterparts. Fast forward to 2021, and that gap has significantly narrowed to just 10%. Suburban homes are gaining popularity and becoming increasingly sought-after.
While some workplaces have returned to entire in-house operations or adopted hybrid work models, the Bank of Canada (BOC) has raised a cautionary flag. They warn that if the preference for larger suburban homes is temporary, housing prices in the suburbs could face downward pressure. However, if our survey respondents have anything to say about it, the BOC might have to reconsider their stance.
Seller's Advantage: Knowing the Key Features
Given the current market dynamics, sellers can exploit the high demand for properties in suburban areas. However, sellers should keep a few key features in mind when listing their homes to maximize their chances of success.
Unlocking the Key Features: Focus on What Matters
Our survey shows that most home buyers have their sights set on a three-bedroom, two-bathroom home. This marks a shift from previous years when buyers were more inclined towards four-bedroom, three-bathroom properties. Smaller home sizes are now more appealing to buyers, likely due to affordability and manageability considerations. Also, consider the best time of the year to sell, which can hugely affect the price. For example, apart from picking the month in the year or accounting for trends, a seller can focus on taking advantage of the seller's market to get the best price possible. As a seller, understanding these preferences can help you align your offering with what buyers are looking for.
Did you know?
According to a survey conducted by the National Association of Home Builders, the top three features buyers desire are a separate laundry room, exterior lighting, and energy-efficient windows. These findings reflect the growing importance of functionality, safety, and sustainability in the minds of homebuyers as they consider their ideal properties.
Must-Have Features or Best Renovations Sellers Can Make
Renovating your home before selling it can be a smart move to attract potential buyers and increase its value. But with so many options, which features should sellers prioritize? Let's dive into the must-have features that can make your property stand out in the competitive real estate market.
Hardwood Flooring: The Reigning Champion
When it comes to flooring, hardwood is the undisputed champion. According to a recent survey, 69% of homebuyers prefer hardwood flooring over other options like carpet, tile, laminate, and luxury vinyl plank. Its timeless beauty, durability, and easy maintenance make it a top buyer choice. Investing in hardwood flooring can give your home a significant advantage if you're considering a renovation.
Main Floor Bathroom: Convenience and Accessibility
Imagine the convenience of having a bathroom on the main floor. Unsurprisingly, 54% of homebuyers consider this a must-have feature. A well-maintained main floor bathroom offers easy accessibility, especially for individuals with mobility challenges or families with elderly members. Incorporating this feature into your home can enhance its appeal and attract a broader range of potential buyers.
Updated Kitchen: The Heart of the Home
A modern and well-designed kitchen has always been a crowd-pleaser. It's no wonder that 45% of buyers prioritize an updated kitchen when searching for their dream home. A renovated kitchen adds significant value to the property and is a central gathering space for family and friends. So if you're looking to make a considerable impact, directing your renovation efforts toward the kitchen is smart.
Outdoor Spaces: Embracing Nature
Buyers are interested in something other than what's inside the house and want to enjoy outdoor living spaces. Approximately 50% of homebuyers look for a patio, deck, or outdoor area. With smaller interior spaces becoming more common, having an outdoor space where one can relax, soak up the sun, and host gatherings is highly desirable. So remember to give attention to your outdoor areas to maximize their appeal.


Garage, HVAC, and Natural Light: The Comfort Factors
While interior design and aesthetics matter, certain practical features are valuable. A garage (48%), updated HVAC system (46%), and ample natural light (53%) contribute to comfort, energy efficiency, and an overall pleasant living environment. These factors are crucial for buyers when making their decision. Ensuring that your home offers these features can make a significant difference in attracting potential buyers.
Features Sellers Shouldn't Prioritize
Not all features hold the same weight in the eyes of buyers. To make your property stand out in a competitive market, it's important to know which features to prioritize and which ones to put on the back burner. Here are some features that buyers don't prioritize:
Mudroom (27%): While a mudroom can be convenient for storing and organizing outdoor gear, it must rank higher on buyers' wish lists.
Hot tub (32%): Despite being a luxurious addition, a hot tub is not a top priority for most buyers.
Pool (34%): Although a collection can be a great source of entertainment and relaxation, it may not be as essential as other features.
Basement suite (21%): While having a basement suite can attract some buyers, it's optional for most.
Understanding which features to focus on and which to avoid can help you allocate your resources more effectively and make your home more appealing to potential buyers.


Bungalows and Victorians: A Tale of Styles
The type of homes that buyers prefer is also evolving. While bungalows and Victorians have always been popular, contemporary-style homes are gaining traction. Current homes are known for their clean lines, minimalistic designs, and use of modern materials. They offer a departure from traditional architectural styles and cater to buyers looking for a more modern aesthetic.
On the other hand, bungalows have a distinct architectural style that emerged in the early 20th century. These single-story houses feature a low-profile design, a front porch, and a charming aesthetic. Bungalows are admired for their efficient use of space and functional floor plans, creating a seamless flow between rooms.
Victorian-style homes, on the other hand, showcase a mix of architectural influences. With ornate trim, intricate woodwork, and decorative elements like stained glass windows and gingerbread detailing, Victorians exude a sense of elegance and charm.
Regardless of the architectural style, one common factor that buyers across the board value is the connection to the outdoors and the abundance of natural light. A staggering 53% of buyers consider natural light a must-have feature. Maximizing natural light and ensuring indoor-outdoor connectivity should be a priority, regardless of the style of home you're selling.
66% of Canadians Say Home Price is a Deal Breaker
Are Canadians struggling to find affordable homes? A recent survey reveals the shocking truth.
When buying a home, one factor overshadows all others: the price. A whopping 66% of Canadians consider home price a deal breaker. It's not hard to see why this is a significant concern for many Canadians. Homeownership dreams often feel out of reach for a large portion of the population. According to a survey conducted by Mortgage Professionals Canada (MPC), a record-breaking 33% of Canadians believe they will never be able to afford a home.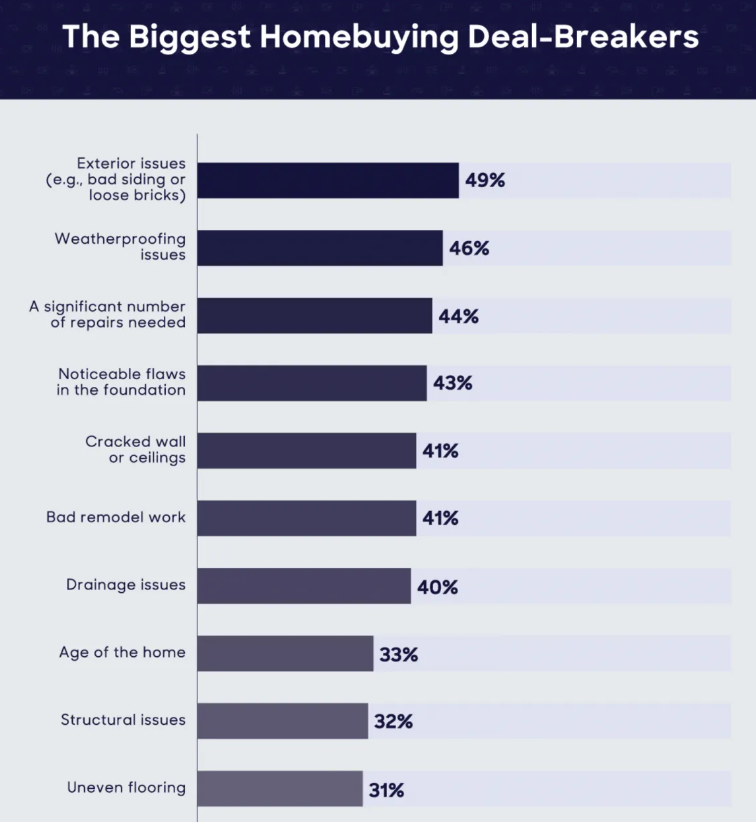 "The number one deal breaker in anything is usually price," says Nick Hill, the Canadian Real Estate Investor podcast host. "We have too many people needing housing and not enough houses available. This scarcity drives up prices, making it even more difficult for aspiring homeowners."
Generation Z Breaks the Mold
Interestingly, among different generations, Generation Z is the only group not prioritizing price when considering a home purchase. Instead, they focus on the home's condition. Sixty-one percent of respondents from this generation identified the home's condition as their primary concern.
"Gen Z's mentality towards homes differs from that of Millennials and Boomers," explains Hill. "They seem more interested in turn-key properties and are willing to pay a premium for a move-in ready home."
Buyers nowadays are looking for well-maintained properties that require minimal work. During a walkthrough, they immediately notice any structural problems or the need for extensive repairs. A staggering 68% of Canadians emphasize the importance of a home's overall condition when purchasing. 47% of buyers are only willing to do minor cosmetic upgrades such as painting or updating fixtures. Only 32% are enthusiastic about more substantial renovations like roof repairs or foundation work.

Location Matters
In addition to price and condition, location plays a crucial role in decision-making. Buyers consider the neighbourhood's reputation, proximity to amenities, schools, and transportation. If an area doesn't feel safe and clean or lacks accessible amenities, potential buyers will think twice before purchasing.
Did you know?
When buying a real estate property, the location plays a crucial role as it can significantly impact the ease of reselling, regardless of how perfect the house may be in meeting your needs and preferences.
Medical Facilities: A Vital Must-Have
Among the desired amenities, Canadian homebuyers prioritize parks and outdoor recreation the most, with 64% of respondents selecting it as a must-have. Shopping and dining come in a close second at 63%, followed by medical facilities at 50%.
"A recurring theme throughout this survey is Canadians' strong desire to incorporate the outdoors into their living space and lives," says Jordann Kaye, spokesperson for Zolo. "This trend is not surprising considering Canadians have always valued outdoor activities, and the pandemic only amplified this appreciation."
It is also no wonder that homebuyers prioritize accessible medical facilities in their desired neighbourhood amenities. A recent poll by the Angus Reid Institute revealed that nine million Canadians had experienced chronic difficulty accessing healthcare.
The top three amenities demonstrate Canadians' need for a balanced lifestyle. The convergence of outdoor leisure, access to quality dining and shopping, and convenient healthcare options indicate a desire for a well-rounded living experience.
Generational Preferences
To better understand the needs and preferences of different generations, it is crucial to compare their homebuying priorities. Although there are some noticeable differences, there are also areas where generations share common ground.
Across generations, from Gen Z to Boomers, the desire to live in single-family homes remains strong. Most are content with a three-bedroom, two-bathroom suburban dream home. However, Gen Z stands out by wanting an additional bedroom.
Unsurprisingly, the price remains the top deal breaker for all generations except Gen Z., But when it comes to home styles and preferred amenities, the ages diverge.
Boomers and Gen X gravitate towards bungalows with open and flowing floorplans. Gen Z, on the other hand, seeks a more modern and contemporary style. Interestingly, Millennials are drawn to colonial homes—symmetrical two-story houses with a center entrance and evenly spaced windows on each side. As for amenities, Gen Z and Boomers prioritize shopping and dining, while Millennials and Gen X crave access to parks and outdoor recreation.
Homebuyers Okay with Less, as the Ideal House Size Is Shrinking
What Canadian home buyers want is primarily shaped by the desire for single-family suburban homes, despite the price of these homes in most major cities. As of April 2023, the average home price in Canada sits at $716,083. In contrast, the average salary of Canadians is $59,059. This is likely why home buyers are okay with less, and we're slowly seeing the ideal house size shrinking. 
Buyers are willing to downsize and prioritize amenities and outdoor spaces. With this in mind, it's still important to acknowledge that key features such as a main floor bathroom, an updated kitchen, and ample natural light are important to buyers. As are the price, home condition, and location.
If you plan to buy or sell a home in 2023, understanding these preferences will help you make better decisions in a continually evolving real estate market.
Homebuyers Embrace Downsizing as the Ideal House Size Gets Cozier
In the ever-evolving real estate market, Canadian homebuyers are making a surprising preference shift. Despite the soaring prices of single-family suburban homes in most major cities, buyers are embracing the idea of having less space. Yes, you heard it right! The ideal house size is shrinking, and people are perfectly fine with it.
Let's take a moment to put things into perspective. As of April 2023, the average home price in Canada is a staggering $716,083. Meanwhile, the average salary of Canadians hovers around $59,059. When you crunch the numbers, it's easy to understand why homebuyers are willing to compromise on space. In a market where affordability is a growing concern, downsizing has become a viable solution for many.


But what exactly are buyers prioritizing when they choose to sacrifice square footage? Well, it turns out that amenities and outdoor spaces are taking center stage. Buyers are willing to let go of excess space in favour of properties that offer attractive features and a connection with nature. After all, who needs a massive living room when you can have a cozy den and a beautiful backyard oasis?
Of course, while downsizing is gaining popularity, certain key features remain important to buyers. Let's dive into these essential elements that continue to sway the decisions of home seekers across the country.
1. Main Floor Bathroom: Convenience at Its Finest
One aspect that buyers will keep is a main floor bathroom. Having a bathroom on the main level of the house is a convenience that many value greatly. It eliminates the need to climb up and down stairs, especially for older individuals or those with mobility challenges. So, if you're planning to sell your home, highlight this feature as it holds significant appeal.
2. Updated Kitchen: The Heart of the Home
The kitchen is undeniably the heart of any home. It's where meals are prepared, conversations and memories are made. Homebuyers understand this; an updated kitchen can make or break a deal. From sleek appliances to stylish countertops and ample storage, a well-designed kitchen can add tremendous value to a property. So, if you're looking to sell, investing in a kitchen upgrade might be the secret ingredient to attracting eager buyers.
3. Ample Natural Light: Brightening Up Spaces
No one wants to live in a dark and gloomy house. Natural light is a sought-after feature that instantly brightens living spaces and creates an inviting atmosphere. Buyers are drawn to homes with large windows, skylights, or open floor plans allowing sunlight to flood in. So, if you're on the selling side of the equation, showcase the abundant natural light your property has to offer.
FAQ
What are the top features Canadian home buyers want in a home? 
Canadian home buyers prioritize features such as a main floor bathroom, natural light, and outdoor space. Other less important attributes include basement suites, mudrooms, and hot tubs.
What type of homes do Canadian home buyers prefer? 
According to a survey, a significant percentage of respondents (62%) strongly preferred fully detached homes in the suburbs.
What are the most desired features for home buyers in Ontario? 
Home buyers in Ontario are particularly interested in a spacious backyard or outdoor space.
What are Canadian home buyers looking for in 2023? 
In 2023, Canadian home buyers are looking for homes with specific features such as spacious backyards or outdoor spaces, and fully detached homes in the suburbs are highly preferred.
What is the home buying trend in Canada for the next five years? 
A significant percentage of Canadians (43%) plan to purchase a home in the next five years.
What resources can help Canadian home buyers find the home they want to buy? 
There are many websites, online resources, and mobile applications to help Canadian home buyers find the home they want to buy.
What makes a house attractive to buyers? 
A house becomes attractive to buyers when it has desirable features such as an upgraded laundry room, backyard patio, wood flooring, energy efficiency, remodelled bathrooms, and a walk-in pantry. Other features like ceiling fans, a modern kitchen, and a good security system also add value.
What are your top 3 things that you would look for when buying a house? 
The top three things most buyers look for when buying a house are location, affordability, and the condition of the house, including key features like the kitchen and bathrooms.
What do millennial home buyers want? 
Millennial home buyers often prioritize updated kitchens and bathrooms, energy efficiency, smart home features, and spaces for outdoor living.
What is the hottest new home amenity? 
The hottest new home amenity can vary based on current trends and individual preferences. However, smart home features, energy-efficient appliances, and outdoor living spaces are currently popular.
What do new homebuyers want? 
New homebuyers often want homes with updated kitchens and bathrooms, energy efficiency, ample storage, neutral colours, and outdoor spaces like a covered back patio, porch, or deck.
What are the most important features in a home? 
The most important features in a home can vary based on individual preferences, but common ones include a modern kitchen, hardwood flooring, an open floor plan, a full bathroom on the main level, and a garage with extra storage.


What Home Buyers Want – Final Words
Knowing what home buyers want is crucial for both sellers and real estate professionals. In Canada, preferences seem to lean towards fully detached homes in the suburbs, with a focus on features like natural light, outdoor space, and a main floor bathroom. However, these preferences can vary greatly depending on the individual and the region.
As the real estate market continues to evolve, staying informed about current trends and buyer preferences can help sellers make their homes more appealing and help buyers understand what's available in the market. Whether you're buying or selling, it's always a good idea to consult with a real estate professional to navigate the complexities of the housing market.