Welcome to the world of Toronto real estate, where the market thrives, and opportunities abound.
With a team boasting decades of experience, the Kim and Howard Team is here to guide you on this exciting journey. Whether you're a seasoned investor or a first-time buyer, our mission is to educate and empower you with valuable insights and expertise.
This article delves into the intricacies of the Toronto real estate landscape, discussing market trends, emerging neighbourhoods, investment strategies, and much more.
So buckle up and get ready to explore the dynamic realm of Toronto real estate with us. Your path to success starts here.

Let's dive in!
Is Toronto real estate expensive?
Toronto real estate prices are considered relatively high compared to other Canadian cities. Factors like robust economic growth, increased immigration, and low-interest rates contribute to this trend. Prices can vary significantly depending on the area and type of property.
Table of Contents:

The Current State of the Toronto Real Estate Market
Toronto's real estate market is a dynamic and ever-evolving landscape. Understanding the current state of the market is crucial for buyers, sellers, and investors alike. Let's delve into the factors that influence Toronto real estate market trends, explore the key drivers behind Toronto house prices, discover the best neighbourhoods for real estate investment, evaluate the opportunities and challenges in the Toronto condo market, and provide valuable tips for navigating the Toronto real estate market.
Analyzing Toronto House Prices and Trends
Toronto house prices have been subject to significant fluctuations over the years. Various factors contribute to these trends, including economic conditions, supply and demand dynamics, government policies, and market sentiment. Analyzing Toronto house prices and trends helps buyers and sellers make informed decisions and gain insights into the market's direction.
4 Factors Influencing Toronto Real Estate Market Trends
Several factors significantly influence the real estate market dynamics in Toronto. If individuals and investors have a solid understanding of these factors, they will be better able to navigate the market confidently.
1. Economic Conditions
The state of the economy, including factors like employment rates, GDP growth, and interest rates, directly impacts the Toronto real estate market. When the economy is strong, there is often increased demand for housing, leading to rising prices. Conversely, economic downturns can result in decreased demand and lower costs.
Did you know?
March 2023 saw 6,896 TRREB MLS® sales by GTA REALTORS®, down 36.5 percent from March 2022. Sales rose month-over-month. New listings fell more annually. The market is tighter than last year.
2. Government Policies and Regulations
Government policies and regulations, such as mortgage stress tests, foreign buyer taxes, and zoning regulations, can significantly influence the Toronto real estate market. These measures aim to stabilize the market, ensure affordability, and address housing supply and speculation issues.
3. Demographics and Population Growth
The demographic composition of Toronto and its population growth rate also impact the real estate market. A growing population drives housing demand, particularly with an influx of young professionals and immigrants. Additionally, factors like household size, lifestyle preferences, and changing demographics shape the types of properties in demand, such as single-family homes or condos.
4. Supply and Demand Dynamics
The balance between housing supply and demand significantly affects Toronto's real estate market. Limited housing inventory relative to demand can increase buyer competition, bidding wars, and higher prices. Conversely, an oversupply of properties can result in a buyer's market, with lower prices and more negotiating power for buyers.
3 Key Drivers of Toronto House Prices
The Canada Mortgage and Housing Corporation (CMHC) reported that between the years 2010 and 2020, house prices in Toronto experienced an average annual growth rate of 7.3%, which was faster than the rate of inflation and growth in other major cities in Canada.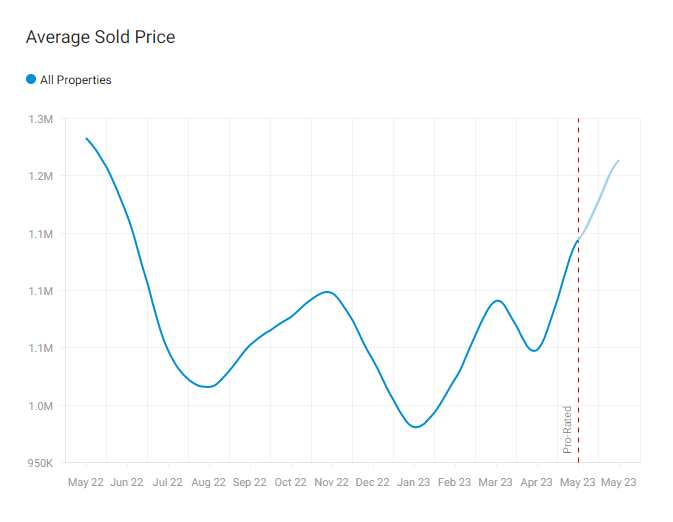 A number of primary factors contribute to both the growth and the fluctuations in Toronto's housing market. For buyers and investors who want to make informed decisions in the market, a fundamental first step is understanding these drivers.
1. Location and Desirability
The location and desirability of a property play a significant role in determining its value. Proximity to amenities, schools, transportation hubs, and employment opportunities can increase prices in sought-after neighbourhoods. Factors like safety, community atmosphere, and access to green spaces also contribute to the desirability of an area.
The value of a piece of property is heavily influenced by factors such as its location and how desirable it is to potential buyers. Prices in desirable neighbourhoods can be driven higher by their proximity to various amenities, including schools, transportation hubs, and employment opportunities. Additionally, the desirability of an area is affected by aspects such as its level of safety, sense of community, and proximity to open green spaces.
2. Demand on the Market and Competitiveness
Rising home prices in Toronto may result from high market demand and intense competition among buyers. Increased competition, which can result in heated bidding wars and higher prices, is caused by many factors, including population growth, historically low-interest rates for mortgages, and a shortage of available housing. The market's sentiment and potential buyers' preferences are also factors that influence demand. At different times, certain property types and features are more desirable.
3. Growth and Stability in the Economy
Prices of homes in Toronto and its surrounding areas are impacted by the city's and area's overall economic growth and stability. A robust local economy, expanding job opportunities, and favourable economic conditions can all increase the affordability of prospective buyers' entry into the market and their willingness to do so, ultimately leading to higher prices. On the other hand, price growth may be stifled or even lead to declines if economic conditions are unsteady or deteriorating.
Exploring Toronto Neighborhoods for Real Estate Investment

Every neighbourhood has its own set of distinguishing qualities and amenities and potential for future development. The following are some of the best areas that are worth checking out:
Leslieville
This vibrant neighbourhood in East Toronto has transformed into a sought-after destination due to its proximity to the central business district and its array of hip shops and restaurants. Both residential and commercial real estate investment opportunities can be found among its quaint Victorian homes and various recently constructed buildings and developments.
Yonge and Eglinton
A lively neighbourhood in the heart of downtown Toronto that is well-known for the vibrant urban lifestyle it fosters. It attracts young professionals and investors looking for convenience and potential appreciation due to the abundance of condominium developments, commercial spaces, and excellent transit connections in the area.
Liberty Village
Due to its proximity to downtown Toronto, Liberty Village has developed into a centre for both creative professionals and technology businesses. Its industrial-chic lofts, contemporary condos, and vibrant community make it an attractive option for investment, with a promising rental market and the potential for long-term growth.


Evaluating Toronto Condo Market: Opportunities and Challenges
The Toronto Regional Real Estate Board reported that the average price of a condo in Toronto had reached $600,000. This figure represents a 9.5% increase compared to the previous year's worth. In addition, the price of a single-family home in Toronto has also increased by 9.5%.
The Toronto condo market presents buyers and investors with a variety of opportunities as well as challenges. It is essential to have a solid grasp of the dynamics of this particular market segment before making any decisions.


Opportunities and Challenges in Toronto Condo Market
Investment Potential
Toronto's condo market presents excellent investment potential due to the city's growing population, limited land availability, and increasing demand for urban living. Investing in a well-located and well-managed condo can provide rental income, potential appreciation, and diversification within a real estate portfolio.
Competition and Supply
The Toronto condo market is highly competitive, with many new developments and units hitting the market. Buyers and investors should carefully assess the supply and demand dynamics in specific neighbourhoods to avoid potential oversupply issues impacting prices and rental yields.
Condo Fees and Regulations
It's essential to consider the monthly condo fees and any associated regulations when purchasing a condo in Toronto. These fees cover maintenance costs, amenities, and building management but can vary significantly. Understanding the financial obligations and rules of the condominium corporation is crucial for budgeting and long-term planning.
4 Tips for Buying a Home in Toronto
The Toronto Real Estate Board found that the average number of days a residential property spent on the market in Toronto was 15, indicating that the market is hugely competitive and moves at a rapid pace.
Purchasing a home in Toronto can be a venture that is both exciting and challenging all at the same time. Take into consideration the following pointers to successfully navigate the process:
1. Secure Financing Pre-Approval
Before starting your home search, obtain pre-approval from a reputable lender for a mortgage. This helps determine your budget and gives you an advantage in competitive bidding situations.
2. Work with a Knowledgeable Realtor
Partner with a knowledgeable and experienced real estate agent specializing in the Toronto market. They can provide valuable insights, guide you through the process, and negotiate on your behalf to secure the best deal.

– INSERT CTA HERE – 
3. Research and Due Diligence
Thoroughly research the area's neighbourhood, property values, and comparable sales. Conduct a professional home inspection and review the status certificate (for condos) to ensure no hidden issues or liabilities.
4. Affordability of Toronto House Prices
Navigating the Toronto real estate market as a first-time buyer can be challenging, given the city's high house prices. On the other hand, it is possible to reduce the financial burden associated with purchasing a home by exercising adequate planning and acquiring relevant knowledge.


Navigating Toronto Real Estate Market as a First-Time Buyer
As a first-time buyer in the Toronto real estate market, consider the following tips:
Tips for First-Time Buyers in Toronto Real Estate Market
Determine Affordability
Assess your finances, including income, savings, and expenses, to determine a realistic budget. Consider mortgage pre-approval, down payment requirements, closing costs, and ongoing homeownership expenses.
Explore Government Incentives
Research government programs and incentives to assist first-time buyers, such as the First-Time Home Buyer Incentive and Home Buyers' Plan. These programs can provide financial support and help make homeownership more attainable.
Consider Alternative Housing Options
Explore alternative housing options, such as condominiums or townhouses, which can offer more affordable than detached homes. Additionally, consider expanding your search to emerging neighbourhoods that provide better value for your investment.
By following these tips and working with professionals in the real estate industry, first-time buyers can navigate the Toronto market and achieve their dream of homeownership.
Did you know?
The First-Time Home Buyer Incentive, introduced by the Canadian government, allows eligible first-time buyers to reduce their monthly mortgage payments and increase their purchasing power.
FAQ
Is it a good time to sell a house in Toronto and buy a condo?
That depends on your goals. Is this an investment, or do you live in it? There are essential lifestyle differences between owning a condo and owning a house, and the condo and house markets in Toronto behave very differently. If you're looking to lock in your home's price appreciation and spend less overall money on housing, then selling your home and buying a condo is a safe alternative. If your number one priority is increasing the value of your real estate investment, then it's important to remember that historically, houses have appreciated higher and faster than condos. Best to talk to a real estate agent to discuss your situation.
How much does a house cost in Toronto?
House prices vary depending on location, size and features/finishes. If you're looking to buy in downtown Toronto, you'll generally need at least $600,000 (unless you want to do many renovations); buying a condo requires at least $275,000. The further you move from Toronto's downtown core, the less expensive prices will be.

When should I sell my house?
If only there were one answer to this question! Historically, February, March and September have been the months with the highest sold price to asking price ratio; those months are notorious for some of the fiercest bidding wars in Toronto. December and January are historically the slowest months, but depending on the type of property you own, having fewer competing properties in slow months might greatly benefit you. It's best to discuss the advantages and disadvantages of timing the listing of your home with an experienced real estate agent.
Why isn't my home selling?
That's a tricky question. Generally, a home doesn't sell for one of 3 reasons:
It needs to be priced right.
It needs to be better marketed.
It doesn't 'show' well to potential Buyers (and might need a good cleaning or staging).
Talk to your agent and ask: 1) what's been happening in the market in your neighbourhood since you've been listed, 2) the marketing that's been completed and 3) the feedback from agents/Buyers who've seen your home.


Toronto Real Estate – Final Words
In conclusion, this comprehensive analysis sheds light on the current state of Toronto real estate, providing valuable insights into house prices, market trends, and investment opportunities. By exploring top-performing neighbourhoods such as Leslieville, Yonge and Eglinton, and Liberty Village, investors can capitalize on the potential for growth and attractive rental yields. 
Whether navigating the condo market, buying a home as a first-time buyer, or considering real estate investment, understanding the factors influencing Toronto real estate is crucial. By staying informed and working with knowledgeable professionals, individuals can make sound decisions in the dynamic Toronto real estate market.