Real estate websites have become integral to the Canadian property market, revolutionizing how people buy and sell properties. Whether a first-time buyer or a seasoned investor, these websites can be your gateway to finding the perfect property and navigating the ever-evolving Canadian real estate landscape.
Let's explore the top real estate websites Canada has to offer, and the significance of these online platforms. 
Table of Contents:

The Importance of Real Estate Websites in Canada
Online platforms provide a vast database of property listings, allowing buyers to explore options in their preferred locations. With user-friendly interfaces and advanced search filters, real estate websites facilitate efficient property searches nationwide. These websites offer valuable insights into market trends, enabling buyers and sellers to make informed decisions.
Real estate websites help users understand property price fluctuations by analyzing historical data and current trends. Many websites connect users with qualified agents, enhancing the buying and selling experience. Furthermore, the convenience of purchasing properties online has significantly influenced the Canadian real estate landscape.
Sellers can list their properties online, reaching a broader audience and increasing the chances of a successful sale. Also, user-friendly real estate websites: The emphasis on user experience has made these platforms easily accessible and navigable. From residential to commercial properties, real estate websites cover various listings catering to diverse needs.
Overview of the Canadian Real Estate Market
The Canadian real estate market is dynamic, influenced by economic conditions, population growth, and government policies. Here are some key points about the current state of the market:
Steady growth: The market has experienced continued growth over the past few years, with certain regions witnessing more significant appreciation.
Urban vs. rural: Urban centers, such as Toronto and Vancouver, are known for their robust property markets, while rural areas offer unique investment opportunities.
Housing demand: Population growth and migration are crucial in driving housing demand, affecting property prices.
Market balance: Supply and demand influence price stability and market competitiveness.
Government regulations: Government policies, like mortgage regulations and foreign ownership restrictions, can impact the market's trajectory.
Rental market: The rental market also plays a vital role in attracting investors looking for income-generating properties.
Top 8 Real Estate Websites in Canada
In Canada's bustling real estate market, several websites stand out for their comprehensive listings, user-friendly interfaces, and valuable market insights. Let's explore Canada's top real estate websites and their key features.
1. Kim and Howard Team
The Kim and Howard Team is a leading real estate website known for its dedicated team of experienced professionals, Kim and Howard Huang, who excel in providing top-notch real estate services. Through a user-friendly interface, valuable market analysis, informative blogs, and social media integration, we quickly rose to the top of the digital world of real estate.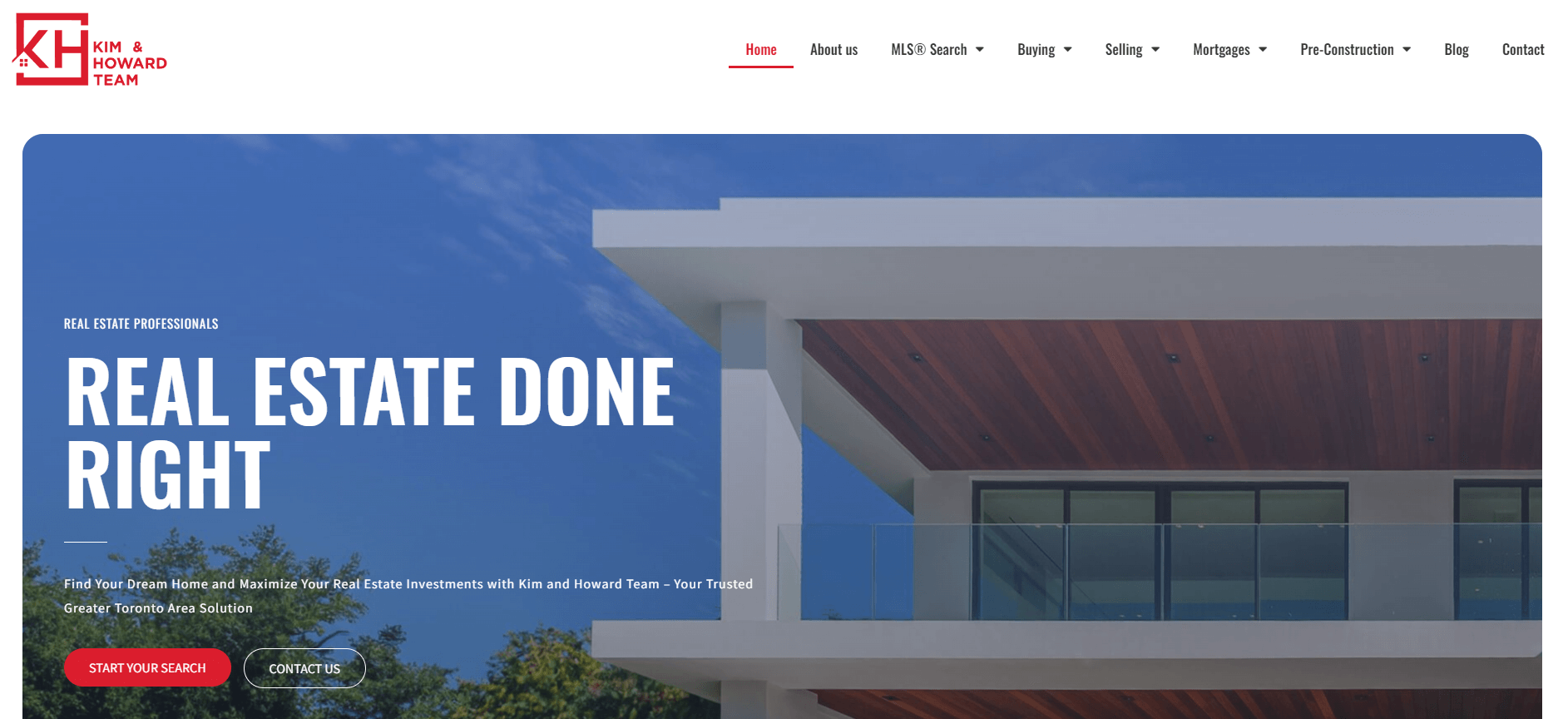 Our website provides a wide range of real estate listings encompassing various property types, including residential homes, condos, townhouses, and commercial spaces. 
These comprehensive listings offer a diverse selection of properties to meet the unique preferences of buyers and investors. For sellers, the website provides property evaluation services to determine the optimal value of their property in the current market.
Whether you're looking to buy or sell property in the Greater Toronto Area, we will do our magic so that you can get the best deal available! 
2. RE/MAX Canada
RE/MAX Canada is a prominent real estate platform known for its extensive real estate listings across the country. It offers many properties, including residential and commercial spaces, making it a one-stop destination for property seekers.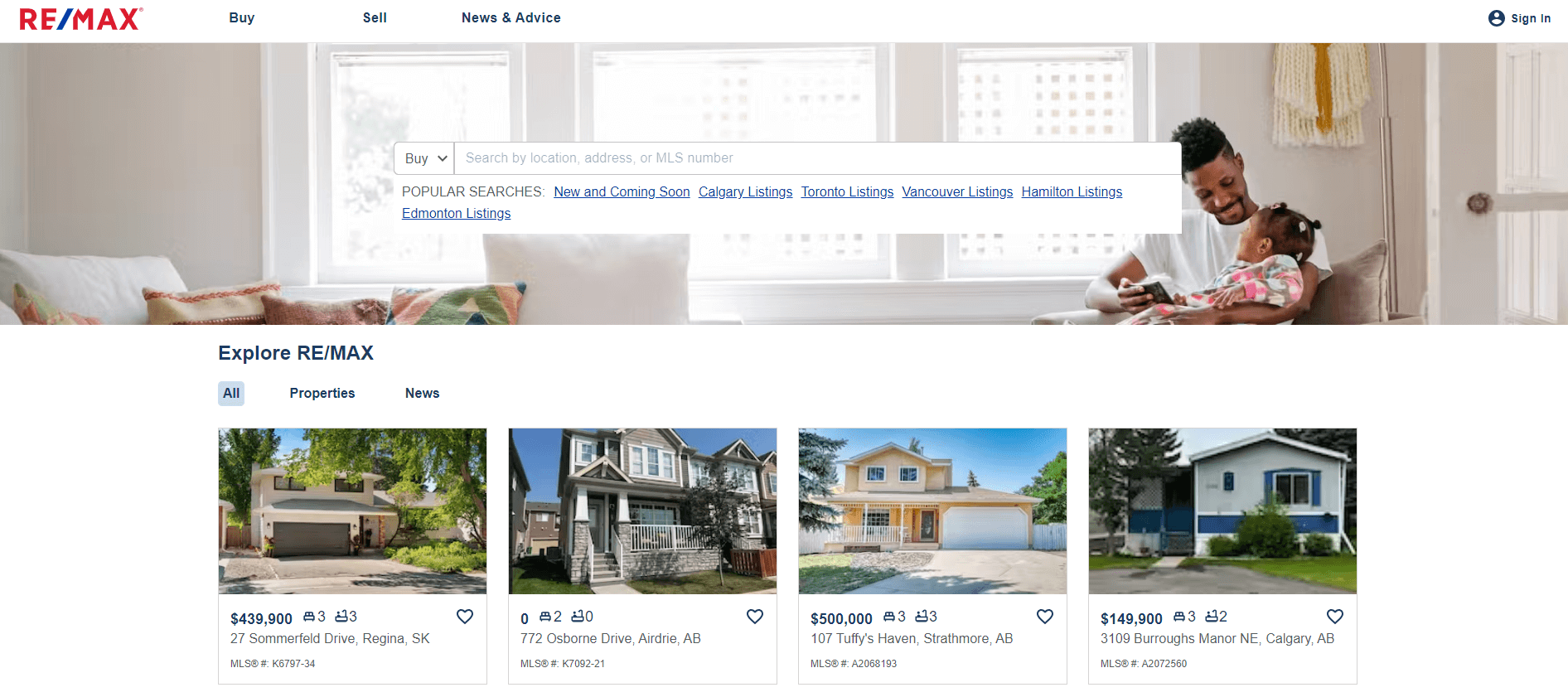 The website's intuitive interface ensures a smooth property search experience. Users can easily find their dream property or investment opportunities with advanced filters and up-to-date market trends. RE/MAX Canada's expert real estate agents assist users in making well-informed decisions.
3. Realtor.ca
Realtor.ca, managed by the Canadian Real Estate Association, is a reliable platform with an extensive network of real estate professionals. It boasts a vast collection of property listings from various provinces and territories.
The platform's user-friendly interface allows for a seamless real estate market analysis, providing insights into property prices in Canada. It caters to buyers and sellers, offering a holistic experience for those interested in selling property online or purchasing their dream home.
4. Zolo
Zolo is an innovative real estate website combining advanced technology and personalized services. Its powerful search engine helps users find properties based on their preferences, making it ideal for a focused Canadian property search.
Zolo's emphasis on market trends and real estate market analysis empowers users to make informed decisions. The platform also offers a seamless process for online property buying, streamlining the purchase journey.
5. Point2Homes
Point2Homes is a growing real estate website that has gained popularity due to its extensive database of property listings. It covers residential and commercial properties, offering a wide selection for users.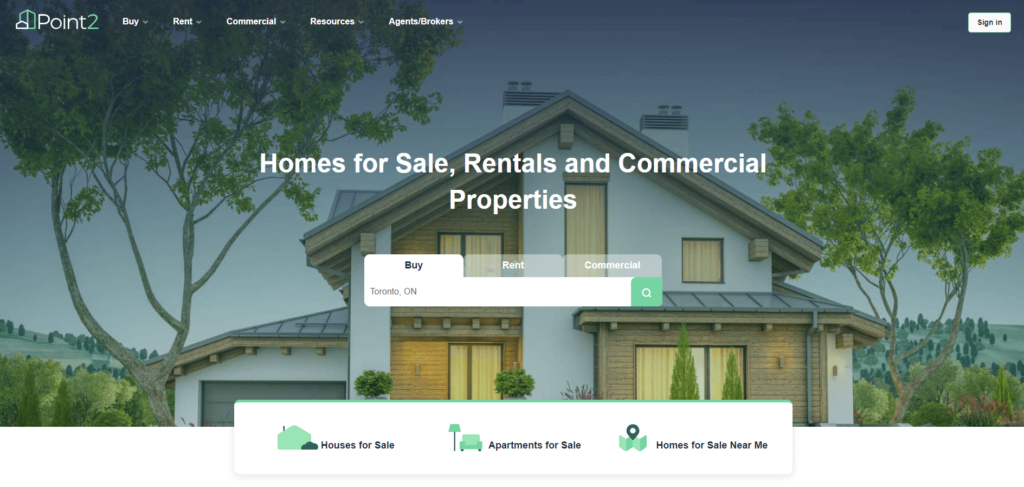 The website's user-friendly interface and intuitive navigation make it easy for users to explore real estate listings and gather essential information about property prices in Canada. Point2Homes' platform also connects users with local real estate agents, ensuring a smooth buying or selling process.
6. Century 21 Canada
Century 21 Canada is a renowned real estate platform with a vast network of experienced agents. Their expertise ensures that users receive professional guidance throughout their property journey. The website offers an impressive array of residential and commercial properties catering to diverse needs.
With an emphasis on a seamless Canadian property search, Century 21 Canada's website boasts a user-friendly interface and advanced search filters. Users can explore Canada's latest real estate market trends and property prices, empowering them to make informed decisions.
7. Royal LePage
Royal LePage is a trusted name in the Canadian real estate industry, renowned for its comprehensive property listings. The platform covers properties from various provinces and territories, making it a valuable resource for property seekers.
The website's intuitive design and user-friendly features facilitate an effortless real estate market analysis. Users can explore property details and connect with qualified real estate agents for personalized assistance in buying or selling property online.
8. Zoocasa 
Zoocasa is a dynamic real estate website providing valuable market insights and extensive property listings. It caters to buyers, sellers, and those seeking professional real estate guidance.
The website's comprehensive market analysis tools empower users to stay educated about real estate market trends and property prices in Canada. Zoocasa's user-friendly interface and personalized services ensure a smooth user experience.
4 Things to Look for in a Real Estate Website
When searching for the ideal real estate website in Canada, several essential features can enhance your property search experience. From user-friendly interfaces to comprehensive listings, let's explore what to look for in a real estate website to make the most of your property journey.
1. User-friendly Interface
A user-friendly interface is crucial for seamless navigation and an efficient Canadian property search. Look for websites that offer intuitive designs and easy-to-use search filters. A well-organized layout and clear menu options can save you time and frustration, allowing you to find the perfect property quickly.
2. Comprehensive Listings
A top-notch real estate website should provide comprehensive property listings covering various property types, locations, and price ranges. Look for platforms offering a diverse selection of residential and commercial properties, ensuring you have numerous options to explore.
3. Accurate and Up-to-date Information
Accuracy and up-to-date information are essential when browsing real estate listings. Seek websites that regularly update their listings and provide reliable property details, including property prices in Canada. Outdated or incorrect information can lead to disappointment and wasted time.
4. Additional Resources
A reputable real estate website should offer more than just property listings. Look for platforms that provide additional resources to support your property journey. These resources may include:
Market analysis reports to help you make informed decisions.
Guidance from experienced real estate agents who understand the Canadian property market.
As you search for the perfect real estate website, remember these factors to ensure a smooth and productive property search experience. The right website can make a significant difference in finding your dream property or investment opportunity.


FAQ
What is the most popular real estate website in Canada?
Some of the most popular real estate websites in Canada include: Kim and Howard Team, RE/MAX Canada, Realtor.ca, and Zolo.
What is MLS Canada?
MLS Canada refers to the Multiple Listing Service that real estate professionals use to share property listings. It is a cooperative system where real estate agents can access and share listings with one another. Many top real estate websites in Canada, such as Realtor.ca and Century 21 Canada, utilize MLS Canada to provide comprehensive property listings to users.
How do I choose a good real estate website?
Look for a user-friendly interface, and ensure comprehensive and up-to-date listings. Check for additional resources like blogs and market analysis. Seek responsive customer support, read user reviews and testimonials, and verify the website's security and privacy measures. 
Can I trust the listings on real estate websites?
Yes, reputable real estate websites provide accurate and up-to-date property listings. However, exercising caution and verifying the information is essential, especially if you're considering a property for purchase or investment. Consulting with a trusted real estate agent can also provide additional assurance.
How often are listings updated on these websites?
The frequency of listing updates may vary depending on the website and the cooperation of real estate agents. Reputable websites, like Realtor.ca and Royal LePage, update their listings regularly to reflect current property availability and market trends.


Best Real Estate Websites Canada – Final Words
Real estate websites offer personalized assistance and extensive listings. Kim and Howard Team, along with other websites, offers a user-friendly interface, valuable market analysis, and informative blogs. Clients praise their professionalism and dedication, making them a trusted resource for navigating the Canadian real estate market. 
By utilizing our online resources wisely, you can make well-informed decisions, whether buying, selling, or investing in properties in Canada. Happy property hunting!