Looking for Mississauga houses for sale? Learn about the present situation of the property market in Mississauga, take a tour of some of the city's most desirable neighbourhoods, gain insight into how to collaborate productively with real estate agents, and discover how to maximize the potential of online listings.
Table of Contents:


Understanding the Mississauga Housing Market in 2023
If you're looking to purchase a property in Mississauga, you should get acquainted with the local housing market and the variables that affect home prices in the region. The Mississauga real estate market is as strong in 2023 as before, with consistent demand and more than several available properties. The city's closeness to Toronto, high quality of life, and variety of amenities make it a desirable place to live. The healthy economy and abundance of job openings in Mississauga contribute to the city's booming housing market.
Price increases are attributed to high demand, low supply, and a prime location. The COVID-19 epidemic is described as having an effect on the real estate market, with purchasers looking for larger homes with greater facilities.
Generally speaking, home prices in Mississauga may be affected by various variables, including the city's location, the supply and demand for property, the state of the economy, and the government's actions. Properties in the city's most attractive areas, notably those in close proximity to public transportation hubs and other convenient locations, fetch higher prices.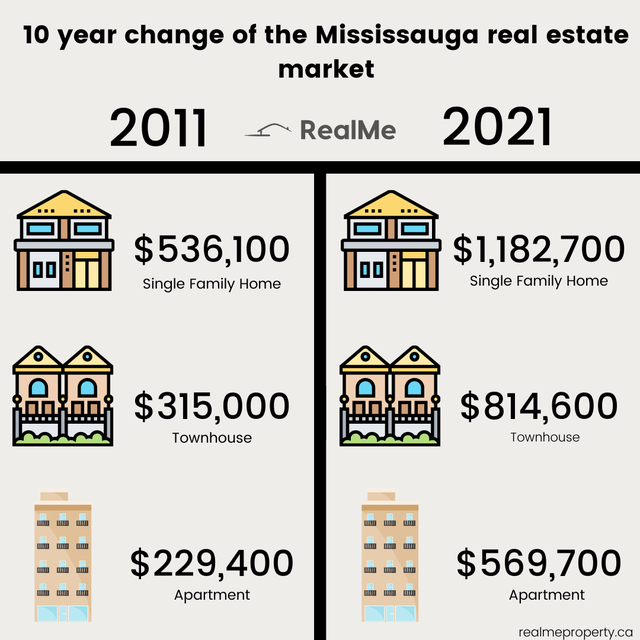 Finding the Right Mississauga House for Sale
Before deciding on a certain property in Mississauga, it is important to look around the many neighbourhoods and locate the one that best meets your requirements. This section provides an overview of many of Mississauga's more well-known neighbourhoods.
Port Credit, located along the shores of Lake Ontario, is known for its picturesque shoreline, hip eateries, and unique stores. It's perfect for people searching for a tranquil setting with easy access to city conveniences.
Square One is a busy area in Mississauga, well-known for its high-rise condos, shopping mall, and entertainment venues. People who want to live in a vibrant metropolitan environment, such as young professionals and families, also gravitate there.
Erin Mills is a great place to raise a family because of the high quality of its educational institutions, parks, and leisure opportunities. It's a great place to raise a family because of the variety of residences available, from single-family mansions to compact townhouses.
Clarkson is a suburb featuring a wide range of property options, tree-lined streets, and a strong feeling of community. Its closeness to Lake Ontario and plenty of parklands have earned it high praise.
When making a final choice about a perfect neighbourhood, it is important to consider as many facets of the community as possible, including its schools, public transit, facilities, level of safety, and projected expansion. Also, it is advisable to visit a potential neighbourhood in person, engage in conversation with its inhabitants, and consult with real estate agents and brokers who are knowledgeable about the area before deciding where to settle down.
Did you know?
One real estate expert, Sam McDadi, thinks the Greater Toronto Area (GTA) housing market is currently among the strongest in the world and will recover, with prices returning to where they were before the crash. Those who are waiting on the sidelines now have the opportunity to enter the market for 20-25% less than they could last year, he says.
Working with Real Estate Agents
A real estate agent is necessary in a competitive housing market like Mississauga. Because of their extensive knowledge of the industry, they are able to steer you in the right way while looking for a house to buy in Mississauga. Consider the following tips if you are interested in finding a reliable and competent agent in Mississauga.
Take the time to investigate numerous agents, read reviews, and conduct interviews to determine which one best fits your requirements and goals in the local market.
Find real estate professionals with experience dealing with purchases and sales in the Mississauga region. They can offer helpful advice because of their familiarity with the regional market.
Make sure the agent you hire is easy to get in touch with, answers your questions quickly, and keeps you up to date as you move through the home-buying process.
Establishing trust and a pleasant working relationship with your agent is crucial. Pick someone who cares about what you need, is conscious of your financial constraints, and looks out for your interests.
Working with a trustworthy and knowledgeable real estate agent in Mississauga will allow you access to various information and resources, making purchasing a house easier for you and enhancing the likelihood that you will locate the ideal home for you and your family.


Exploring Listings of Mississauga Houses for Sale
In today's digital age, utilizing online platforms and real estate websites can significantly benefit your home-buying experience in Mississauga. These platforms provide a vast array of listings, allowing you to explore available houses for sale from the comfort of your home. Here's how you can make the most of these resources:
Refine your search: You may narrow down your results by selecting particular search parameters, such as the desired neighbourhood, price range, number of bedrooms, and more, on the majority of real estate websites. This helps you zero in on the choices that suit your needs and budget.
View detailed property information: Listings often include extensive information about the homes, such as square footage, amenities, property features, and high-quality pictures. Listings may also include a description of the neighbourhood. Utilize this knowledge to your advantage when determining whether or not a certain home satisfies your standards.
Virtual tours: Many listings currently include virtual tours, which allow you to explore the home virtually. These tours provide you with an in-depth look at the home, enabling you to evaluate the design of the floor plan and get a sense of the available area.
Save favourites and set alerts: On real estate websites, you can frequently "save" listings that are of particular interest to you and also "set up alerts" for newly listed homes that meet certain criteria. This will save you time and guarantee that you don't miss out on any possibilities that may arise in the future.
One of the most important aspects of buying a house is narrowing down your choices depending on your needs and budget. Mark down the listings that catch your eye, and discuss setting up viewings with your real estate agent to have a better look. Insightful advice, assistance in negotiating, and direction in making an offer are all within their expertise.
To successfully purchase a property in Mississauga, you need to have an intimate familiarity with the local housing market, consider various neighbourhoods, work with a trustworthy real estate agent, and make good use of internet resources and listings. If you follow the advice in this book and receive some help from an expert, you should be able to discover a property for sale in Mississauga that is just right for you. Have fun with the home-buying process, and if you have any questions or need any help along the way, please feel free to contact a real estate agent or leave a comment below.
FAQ
In 2023, what tendencies can we expect to see in the Mississauga real estate market?
Mississauga's housing market in 2023 is characterized by high demand, rising prices, and a competitive environment due to a lack of available homes. Location, prosperity, and a wide range of facilities contribute to the city's popularity.
How can I figure out how much money I have to put down on a property in Mississauga?
Consider your salary, savings, credit history, and long-term financial goals when setting a budget for a home purchase in Mississauga. Get pre-approved by a mortgage lender and know exactly how much house you can buy by discussing your case with a mortgage expert.
What are the most important things to look for when buying a home?
A home's general condition, structural integrity, plumbing and electrical systems, HVAC systems, roof condition, insulation, and prospective maintenance or repair needs are all important to evaluate before making an offer. The location, accessibility, and possible resale value of the surrounding area should also be considered.
Where should I begin with the mortgage application for a Mississauga home?
You should deal with a professional mortgage lender or broker to help you through the mortgage process while purchasing a home in Mississauga. You can rely on them to explain the mortgage application process, explain the many mortgage choices available to you, help you gather the necessary documents, and advise you on the interest rate and conditions that will work best for you.
Where can I get information about Mississauga's first-time homebuyer programs and incentives?
It's possible that Mississauga offers special programs and rebates for first-time homebuyers. First-time purchasers might get help and encouragement through these programs. Investigate any programs, subsidies, or incentives the government offers that may help with a down payment, closing costs, or taxes. Talk to a real estate agent familiar with the Mississauga area who can fill you in on current programs or incentives.


Mississauga Houses for Sale – Final Words
To summarize, the housing market in Mississauga in 2023 is defined by consistent demand, rising property values, and a competitive environment. Your financial status should be evaluated, and consultation with a mortgage specialist should follow afterward in order to determine your budget. When doing a home inspection, its condition, systems, and location are all important considerations. Working with a reputed lender is necessary in order to navigate the mortgage process successfully.
There is a possibility that Mississauga will provide programs or incentives for first-time homebuyers. Throughout the process of purchasing a house, it is critical to maintain an up-to-date knowledge base, seek the advice of qualified professionals, and seriously consider your many possibilities.
So, are you ready to start your quest to locate the ideal residence in Mississauga? Now is the time to begin looking into the available homes and use the information in this helpful guide. Whether this is your first time purchasing a house or you're searching for a new place, our in-depth advice and recommendations will assist you in making thought-out choices.

Do not be afraid to contact seasoned real estate agents, and do not be afraid to utilize internet platforms to your benefit. We have the Mississauga house of your dreams waiting for you! Get started on your search right now to get your goal of owning a house closer to being accomplished.