The reason people opt for a condo instead of a house is because the cost of condos is noticeably cheaper compared to other types of properties. With a record number of condos flooding the Toronto real estate market, it seems that this is the best time for condo investment.
In this article, we will explore the question, how much does a condo cost in Toronto in 2023? And we'll provide valuable insights and guidance to help you make an informed decision.
What is the cost of a condo in Toronto in 2023?
The average cost of a condo in Toronto in 2023 varies greatly based on the neighborhood, with prices ranging from $603,591 in areas like The Danforth and East York, to $1,264,892 in upscale areas like the Annex and Yorkville.
Table of Contents:

Understanding the Cost of a Condo in Toronto in 2023
By examining the latest market watch report released by the Toronto Regional Real Estate Board (TRREB) in March 2023, we can gain a clearer picture of the average cost of condominium apartments in the Greater Toronto Area (GTA). According to the report, the average cost stands at $703,566, representing a 13% decrease from the previous year.
However, mere statistics may not be sufficient to guide you in making a decision.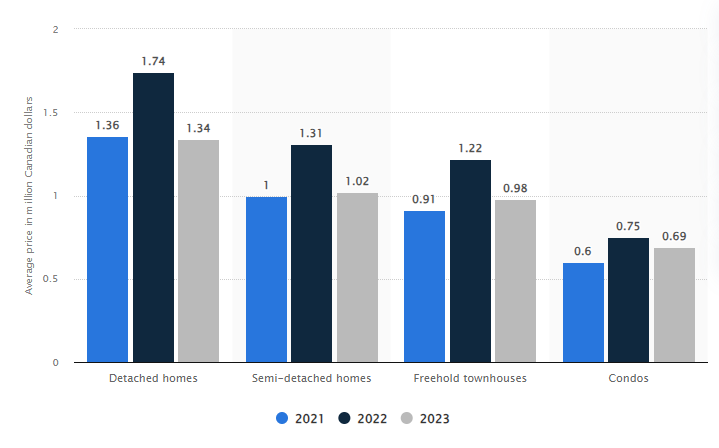 The average sales price of residential real estate in Greater Toronto, Canada, from 2000 to 2022, by property type (in million Canadian dollars)


The following tables categorize the prices by neighbourhood and condo apartment type, allowing you to assess the costs more effectively. Also, find our mortgage calculator to determine the minimum down payment required for each scenario.
Condo Prices by Neighbourhood
In this table, you will find the average price of condos as of March 2023, categorized by neighbourhood, along with the corresponding minimum down payment.
| | | |
| --- | --- | --- |
| Neighbourhood | Average Price of Condo as of March 2023 | Min. Downpayment |
| Leslieville; Riverside; Riverdale; Greenwood-Coxwell | $760,445 | $51,045 |
| Upper Beaches & Beaches | $898,909 | $64,891 |
| The Danforth; East York | $603,591 | $35,359 |
| High Park; Roncesvalles; Parkdale | $774,963 | $52,496 |
| Junction; High Park North; Runnymede | $733,434 | $48,343 |
| Brockton Village; Dundas West; King & Queen West; Little Italy; Kensington & Bay Street Corridor | $777,729 | $52,773 |
| Annex & Yorkville | $1,264,892 | $252,978 |
| Cabbagetown; Corktown; St.Lawrence Market; Distillery District; Church Corridor | $772,731 | $52,273 |
| Summerhill; Rosedale | $1,120,000 | $224,000 |
Condo Prices by Property Type
This table outlines the number of condo townhouses and apartments available within specific price ranges.

| | | |
| --- | --- | --- |
| Price Range | No. of Condo Townhouse | No. of Condo Apartment |
| $200K to $300K | 0 | 6 |
| $300K to $400K | 0 | 21 |
| $400K to $500K | 11 | 165 |
| $500K to $600K | 40 | 613 |
| $600K to $700K | 86 | 554 |
| $700K to $800K | 167 | 329 |
| $800K to $900K | 100 | 180 |
| $900K to 1MIL | 66 | 98 |
| $1MIL to 1.25MIL | 32 | 84 |
| $1.25MIL to 1.5MIL | 15 | 31 |
| $1.5MIL to 1.75MIL | 5 | 15 |
| $1.75MIL to 2MIL | 4 | 6 |
| 2MIL+ | 1 | 19 |

How Much Does A Condo Cost Per Month In Toronto?
Now, let's delve into the monthly expenses of owning a condo in Toronto. These costs include monthly mortgage payments, condo fees, property taxes, and insurance. For a condo valued at approximately $650,000, the monthly carrying costs could be $3,000. 
This estimation considers factors such as the mortgage payment, which is dependent on interest rates and the down payment made, condo fees based on the unit's square footage, property tax rates for 2023, and property insurance costs. The average cost of rent in the Toronto GTA has increased by 17% since 2022.
Finally, let's address some of the hidden expenses of buying a condo in Toronto. In addition to the down payment and closing costs, it is crucial to consider the following "hidden" expenses when budgeting for your new home:
Movers: You may need to allocate approximately $1,000 for professional moving services.
Locksmith: Budget for a locksmith fee ranging from $50 to $100 to ensure the security of your new condo.
Utility Set-Up Fees: Costs for setting up utilities will vary, so it is essential to account for these expenses.
Elevator Bookings: Many condominiums require a refundable deposit for elevator bookings, typically ranging from $250 to $500.
Cleaning Services: Allocate funds for cleaning services, ranging from $150 to $300.
Furniture: Depending on your preferences and the size of your new space, budget for furniture costs accordingly.
Repairs and Improvements: Whether minor or major, the expenses associated with repairs and improvements will vary based on your specific needs and preferences.
Finding the Ideal Neighborhood
Choosing the right neighbourhood to buy a condo in Toronto is crucial for your lifestyle preferences and potential return on investment. While personal preferences play a significant role in this decision, it's essential to consider various factors that influence a neighbourhood's desirability and future growth. Here are some key points to consider:
1. Price Points
Analyzing the price points across different neighbourhoods in Toronto can provide insights into where you find better value for your investment. While areas like the Annex and Rosedale tend to have higher average condo prices, neighbourhoods such as High Park, Roncesvalles, and the Danforth often offer more affordable options.
2. Up-and-Coming Areas
Neighbourhoods that are experiencing gentrification and affordability often present excellent investment opportunities. Areas like Leslieville and Riverside have seen significant price growth in recent years, making them attractive options for potential buyers. Consulting with a knowledgeable realtor can help you identify these emerging neighbourhoods.
3. Market Reports
Keeping a close eye on monthly real estate market reports, particularly the Toronto Real Estate Board (TREB) prices, can give you a more accurate indication of neighbourhood sale prices and market trends. Staying informed about the changing dynamics of the Toronto condo market will enable you to make more informed decisions.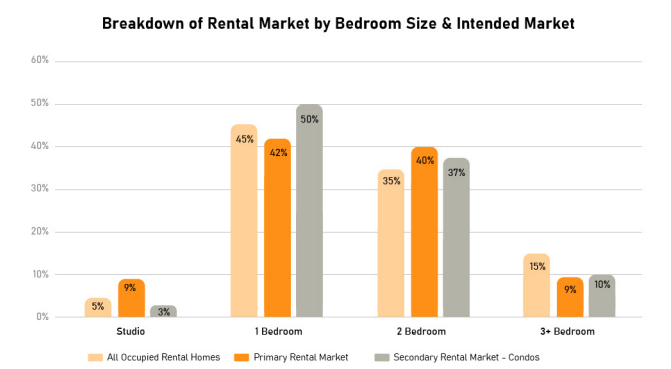 4. Seek Expert Advice
Your realtor is your best resource for understanding the market, identifying suitable neighbourhoods, and providing personalized advice based on your preferences and budget. Their expertise and knowledge of the Toronto real estate market can help you make the right choice.
Understanding Deposits and Down Payments
When purchasing a resale condo in Toronto, deposits and down payments are integral to the buying process. Let's explore how these financial aspects work and what you should consider:
1. Deposits
The typical deposit for a condo in Toronto is around 5% of the overall purchase price. This deposit is applied towards your down payment and is usually made within 24 hours after an accepted offer or with your offer in case of a bidding war. For instance, if you buy a $500,000 condo, your deposit would amount to $25,000.
2. Down Payment
The minimum down payment you can make on a resale condo in Toronto depends on the purchase price. Any down payment of less than 20% will require you to pay Canada Mortgage and Housing Corporation (CMHC) mortgage insurance. Investigating this additional cost is essential when planning your down payment.
3. Benefits of a Lower Down Payment
Opting for a lower down payment and paying the CMHC mortgage insurance can have advantages. By entering the real estate market with a smaller down payment, you can start building equity and benefiting from potential appreciation sooner rather than waiting to save for a larger down payment. This strategy allows you to enter the market while considering the rising prices and competition in Toronto's real estate market.


Calculating Your Mortgage Payments: Mortgage Calculator
As you search for condos for sale in Toronto, understanding your mortgage payments is crucial for financial planning. Utilizing a mortgage calculator can provide you with a breakdown of costs associated with other MLS listings. 
By entering the condo price, you can obtain valuable information such as the minimum down payment required, mortgage insurance requirements, total mortgage amount, monthly mortgage payments, and land transfer tax obligations.
Budgeting for Condo Closing Costs
In addition to the down payment, condo closing costs are another significant financial consideration. The amount you'll owe in closing expenses depends on the condo's purchase price. It's essential to be aware of these costs and budget accordingly. Some common closing costs include:
1. Land Transfer Tax
When buying real estate in Toronto, you are subject to municipal and provincial Land Transfer Tax (LTT). The purchase price of the property determines the total LTT amount owed. However, first-time buyers may be eligible for a Land Transfer Tax Rebate, which can result in substantial savings. Our Land Transfer Tax Calculator can help you with that.
2. Title Insurance & Legal Fees
Title insurance and legal fees are typically bundled together during the closing process. The cost of changing the property's title from the seller's name to yours can range from $250 to $500. Budgeting around $1,500 to $2,000 for legal fees is advisable.
3. Property Tax Adjustment
Sometimes, the seller may have already paid property taxes beyond the closing date. As the buyer, you must reimburse the seller for the difference. It's essential to consider this potential adjustment when budgeting for closing costs. The closing costs are signing, followed by 5% installments at specific intervals leading up to occupancy.
2. Pre-Construction Condo Closing Costs
In addition to the common closing costs mentioned earlier, buying a pre-construction condo may entail additional expenses. These include development charges, Tarion Home Warranty fees, and Harmonized Sales Tax (HST) considerations.
3. Development Charges & Tarion Home Warranty
Development charges are levies imposed by the city of Toronto and passed on to purchasers of newly built properties. These charges contribute to the city's development and cover various aspects such as parks, education, and water and sewer levies. Tarion Home Warranty covers newly constructed homes in Ontario and helps protect buyers against specific issues.
4. HST Considerations
If you plan to live in the pre-construction condo, the HST portion will be tied into your mortgage. However, if you intend to use the condo as an investment, you'll need to pay the HST upfront, with a potential rebate available if you have a one-year lease.


Is Buying a Condo in Toronto Worth It?
The answer is a resounding yes! Despite the media's focus on real estate headlines, investing in Toronto condos can be highly beneficial. Real estate investments, unlike stocks, allow you to leverage your initial investment and potentially yield significant returns. 
Over the years, Toronto condos have shown an average appreciation rate of 4%-5% per year, driven by factors such as a competitive housing market, population growth, and the city's popularity. The Chief Market Analyst for Toronto Regional Real Estate Board, Jason Mercer, said "Housing market conditions have been tightening up in the GTA. Home sales and selling prices are expected to improve as we move through 2023. Based on the expectation that first-time buying activity will increase this year, look for the condominium apartment segment to be one of the recovery leaders in terms of sales and price growth".

While you should draw your own conclusions from this information, it would seem that the Toronto condo market is a growing economy.
FAQ
What is the average cost of a condo in Toronto in 2023? 
As of 2023, the average cost of a condo in Toronto is approximately $700,000 to $800,000. However, prices can vary widely based on location, size, and amenities.
How have condo prices in Toronto changed compared to previous years? 
Condo prices in Toronto have seen a steady increase over the past few years, with an approximate rise of 5-8% annually, influenced by the city's growing demand and limited inventory.
Are there specific neighbourhoods in Toronto where condos are more affordable? 
Yes, while central Toronto tends to have higher condo prices due to its prime location, areas in the Greater Toronto Area, like Scarborough and Etobicoke, often offer more affordable options.
How do Toronto's condo prices compare to other major Canadian cities?
Toronto is among the most expensive cities for condos in Canada, with prices higher than cities like Calgary and Ottawa but comparable to Vancouver's prime areas.
What additional costs should be considered when buying a condo in Toronto? 
Aside from the purchase price, buyers should factor in closing costs, maintenance fees, property taxes, and potential special assessments.


How Much Does A Condo Cost in Toronto in 2023 – Final Words
The cost of a condo in Toronto in 2023 depends on multiple factors, including its location, size, and available amenities. Despite the seemingly high prices, Toronto's condo market offers considerable growth potential, making it a worthwhile investment. However, due to the dynamic nature of the market, making informed decisions based on thorough research and accurate financial planning is absolutely essential. It's recommended to leverage the expertise of real estate professionals to navigate the complexities of the market.
In a nutshell, while the Toronto condo market can be challenging, it also presents significant opportunities for those who approach it with diligence, knowledge, and foresight.